Alpha Series Mobile Restrooms
Alpha Series: The ultimate in luxury, mobile restrooms
Alpha Mobile Solutions builds the finest luxury, portable restroom and shower trailers on the market today. Available for purchase or lease, we back all of our restroom, shower or restroom/shower combinations with the best customer service in the industry.
Alpha II
Our flagship model that is the best value in the industry, the Alpha II restroom trailer features 2 private rooms. Large porches, stainless steel hand rails, AC/heat, and heavy duty flooring are all standard on the Alpha II. This trailer is equipped with a 125 Gal. fresh water tank and a 370 gal waste tank yielding over 1,100 flushes.
Alpha III
The perfect solution for the most common events – weddings, parties, fundraisers, and VIP areas, the Alpha III is a "no-brainer". With 1 private men's and 2 private women's, this trailer is capable of accommodating crowds of up to 300 for 6-8 hours. A 500 gal. waste tank allows for approximately 1,500 flushes and is also equipped with a 125 gal. Fresh water tank.
Alpha V
The "ultimate crowd pleaser" the Alpha V satisfies larger crowds with style and comfort. Five individual private rooms with 2 men's and 3 women's can accommodate 500 guests or more for 8 hours. The 870 gal. waste capacity yields approximately 2,600 uses and supplies 250 gallons of fresh water.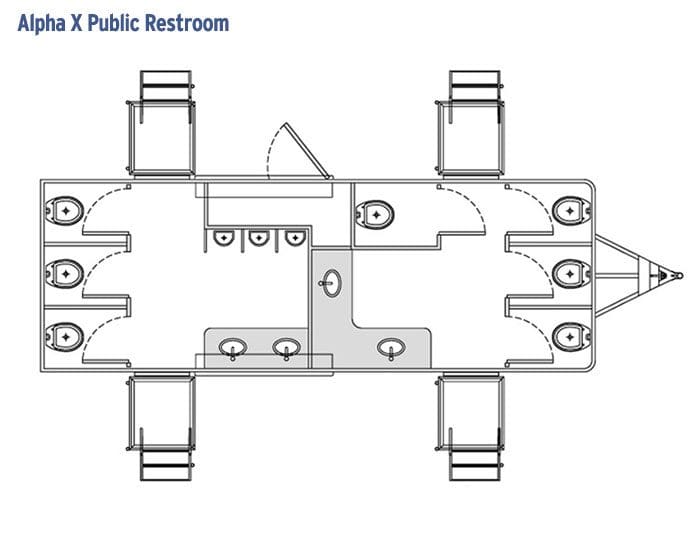 Alpha X Public
The Alpha X is one of the most popular mobile restroom solutions on the market today. A "public" style men's and women's configuration supplies 3 toilets/3 urinals on the men's side and 4 toilets on the women's. This restroom trailer efficiently accommodates crowds by utilizing doors on both sides.