Alpha Series Mobile Restroom Trailers
Your Premier Choice in the USA & Canada
Elevate Your Business with Our Exceptional Mobile Restrooms
In the dynamic world of mobile sanitation, our Alpha Series Mobile Restroom Trailers stand out as the pinnacle of comfort, design, and functionality. Serving a diverse clientele across the USA and Canada, we are committed to delivering unparalleled service and quality that your business can rely on.
Top Services Offered
Customizable Layouts: Tailor your mobile restroom to meet the unique demands of your clientele.
Advanced Sanitation Technology: Featuring touchless fixtures and state-of-the-art waste management systems.
Durable Construction: Built to withstand diverse weather conditions, ensuring longevity and reliability.
Eco-Friendly Options: Incorporating green technology for a sustainable operation.
Comprehensive Warranty: Peace of mind with industry-leading warranty coverage.
Why Choose Our Alpha Series Restroom Trailers?
Expert Craftsmanship: With years of industry experience, our trailers are designed by skilled professionals.
Customer-Centric Approach: We prioritize your needs, offering support and after-sales service.
Competitive Pricing: Get the best value for your investment without compromising on quality.
Fast Delivery: Timely delivery across the USA and Canada to keep your business moving.
Frequently Asked Questions
Q: Can the restrooms be customized for different events and clients? A: Absolutely! Our Alpha Series Trailers are fully customizable to cater to weddings, corporate events, and more.
Q: What kind of sanitation technology is used? A: We employ the latest in touchless technology and efficient waste management systems for optimal hygiene.
Q: Are the trailers built to last? A: Yes, they are constructed with durability in mind, using materials that can endure various climates and conditions.
Q: Do you offer eco-friendly solutions? A: Sustainability is key in our design process, offering options that reduce environmental impact.
Q: What about warranty and support? A: Our trailers come with comprehensive warranty coverage, and our team is available for any assistance.
Alpha II
Our flagship model that is the best value in the industry, the Alpha II restroom trailer features 2 private rooms. Large porches, stainless steel hand rails, AC/heat, and heavy duty flooring are all standard on the Alpha II. This trailer is equipped with a 125 Gal. fresh water tank and a 370 gal waste tank yielding over 1,100 flushes.
Alpha III
The perfect solution for the most common events – weddings, parties, fundraisers, and VIP areas, the Alpha III is a "no-brainer". With 1 private men's and 2 private women's, this trailer is capable of accommodating crowds of up to 300 for 6-8 hours. A 500 gal. waste tank allows for approximately 1,500 flushes and is also equipped with a 125 gal. Fresh water tank.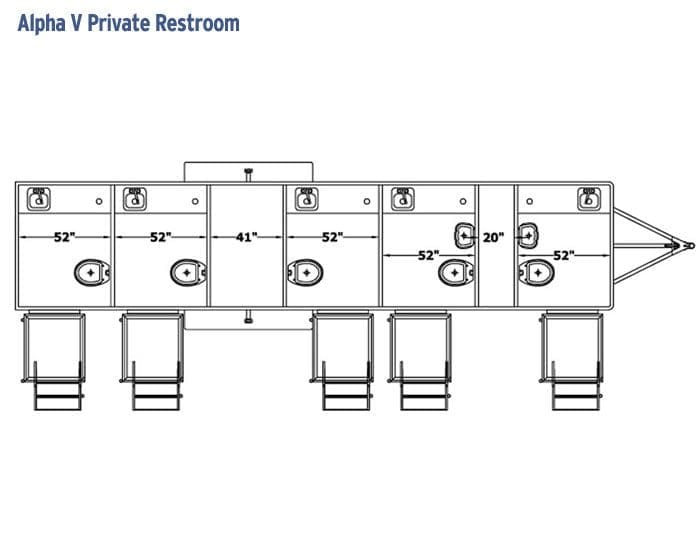 Alpha V
The "ultimate crowd pleaser" the Alpha V satisfies larger crowds with style and comfort. Five individual private rooms with 2 men's and 3 women's can accommodate 500 guests or more for 8 hours. The 870 gal. waste capacity yields approximately 2,600 uses and supplies 250 gallons of fresh water.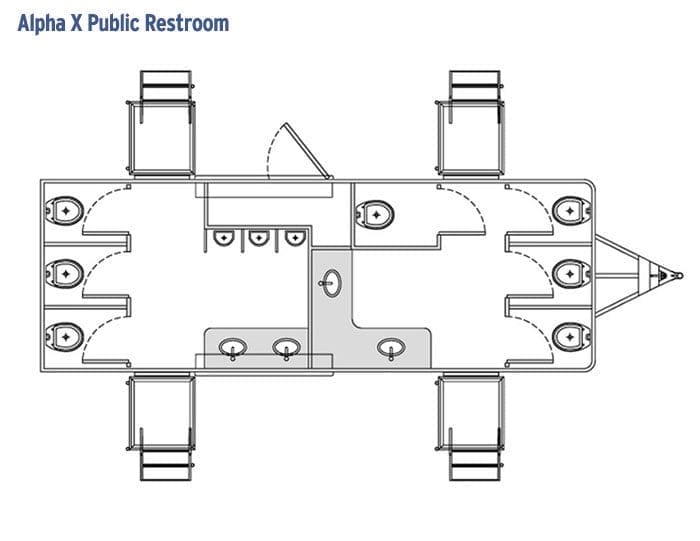 Alpha X Public
The Alpha X is one of the most popular mobile restroom solutions on the market today. A "public" style men's and women's configuration supplies 3 toilets/3 urinals on the men's side and 4 toilets on the women's. This restroom trailer efficiently accommodates crowds by utilizing doors on both sides.